Despatched in 3-5 Business Days
We despatch orders in 3-5 business days from the date we receive your order. 

When your basket total is over €35, shipping is on the house!
We appreciate each and every customer and are always delighted when customers come back year in year out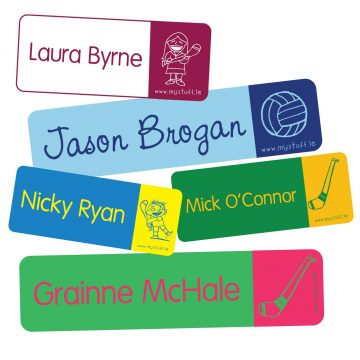 County Colour Stickers so popular with children all over Ireland for labeling their  hurleys, drinking bottles, schoolbooks and all their gear.

We take great pride in providing the very best products and unrivalled customer service

Is there something you need for an event or other business application?  We can customise products to suit your needs.  Talk to us we would love to help.
We know that our labels have to be very durable and able to withstand wear and tear. That is why we only use the highest quality materials and inks

MyStuff is a family business.  Family businesses are the cornerstone of the economy.  Over 95% of our suppliers are Irish.
Purchased on-line on Sunday night, beautiful labels delivered on Tuesday morning - great service and delighted to be able to buy Irish in these challenging times - thank you
Thank you very much for sending the labels so fast. They are fantastic, Can't wait to try the shoe labels also. You have a customer for life here!
They have arrived and I am very pleased. Thank you for such prompt service. Go raibh maith agat,
Very impressed with your sales team and very nice to do business with ye. Will certainly tell my friends about ye.
Hi there, I received my order today - super speedy - with many thanks.
I got my labels this morning, thank you for being so efficient as always
Just wanted to say thanks so much for such a great service. Got labels 7 months ago and between bottles, Cups and bowls etc... Dishwasher, microwave, sterilizers and crèche they've really stood test. It's a great product and even better because it's Irish. People always comment on the labels and I am always happy to recommend mystuff.ie. As soon as someone mentions a crèche, I say oh you should look at mystuff. I'll definitely be coming back when we're getting ready for school.
I love your stickers! My son Zak has been using them on his lunchbox, juice, everything for school and they have made life a lot easier as the school mayhem starts again. Just wanted to let you know! Love that they're dishwasher proof. Thanks for coming up with a great idea
Just wanted to say a big thanks for such speedy service - arrivied within 2 days - pretty impressive for week before back to school. Kids love their cool labels!
Just wanted to give you a little feedback on my order done. Thank you for having it sent so promptly over, it went so fast,.. thanks. And the sticker quality is absolutely great. They survived dish washer and rough handling in school bags, so far. Thank you very much, will definitely order more in future... It is a big pleasure to receive great quality service and great quality products, not really a common happening in those days...
The stickers arrived this morning, the girls are very delighted. Look forward to dealing with you next summer! Thanks again